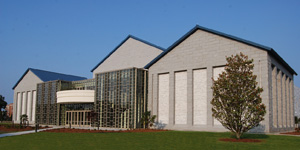 The FMU Performing Arts Center, an estimated 61,000 square foot facility located in downtown Florence, has been made possible through a partnership between FMU and the City of Florence and is partially funded through a substantial private gift from the Doctors Bruce & Lee Foundation. Its main elements include an 849-seat Mainstage with a fly tower, a 100-seat flexible Black Box space, and an Academic Wing for the Department of Fine Arts. The exterior of the building consists of Winnsboro granite with Georgia White Cherokee marble insets.
Gainesville
Gainesville is the heart of North Central Florida and your gateway to the Sunshine State!
Nothing is more perfect that Northern Florida in the late spring. Summer's heat is weeks away, and the temperatures hover in the mid to upper 80s. Flowers are in bloom, and the occasional late afternoon shower does little to dampen the beauty that the area has to offer.
Rivers of Grass
The Gainesville area is located in the highest concentration of first-magnitude springs in North America. These crystal clear blue green pools and underwater caves gave birth to Samuel Coleridge's famous line:
In Xanadu did Kubla Khan A stately pleasure-dome decree: Where Alph, the sacred river, ran Through caverns measureless to man Down to a sunless sea.
Kayaking, canoeing, and inner-tubing are just a half hours drive away.
Explore Florida
For those coming out of state, consider this your invitation to explore our state. Gainesville is within two hours of many incredible destinations:
Orlando, with Walt Disney World, Universal Studios, and Sea World.
Tampa, with its famed Ybor City district.
Florida's nature coast, along the Gulf of Mexico, with some amazing fishing opportunities and the artist community of Cedar Key.
Saint Augustine, America's oldest city, and miles upon miles of crystal sandy beaches along the Atlantic.
Three hours away will bring you to Daytona and the Space Coast.