HighEdWeb West wouldn't be possible without the generous support of our sponsors. Big thanks to all!
---
Gold Sponsor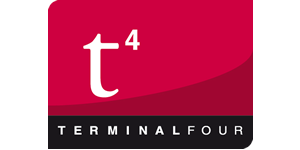 TERMINALFOUR is a digital marketing and web content management platform for higher education. Our vision is simple. We want to enable universities and colleges to create targeted and incredibly effective digital marketing campaigns and clever engagement strategies to attract and retain the best and brightest students.
We've helped hundreds of higher education clients throughout the world realize the full potential of their online environments, including student recruitment, retention, alumni fundraising, and research promotion.
---
Bronze Sponsors

Conversion Sciences is an A/B testing conversion optimization agency specializing in increasing conversion rate, average transaction value, and digital marketing ROI. Founded in 2007 by optimization testing experts Brian Massey and Joel Harvey, our Conversion Catalyst™ process combines the time-tested principles of the Scientific Method with advanced digital marketing techniques to reliably and repeatedly help our clients "find the hidden money" in their sites.

Through a highly collaborative process, Domain7 creates innovative, empathetic digital experiences that help organizations grow and communities connect. Our process is designed to change our clients for the better, by bringing empathy and human-centered thinking to everything we do, including business, brand and marketing strategy; digital design; content creation; workshops and facilitation; web platforms; and systems integration.

Hannon Hill is the leading provider of content management and marketing solutions in higher education, and Cascade CMS, Hannon Hill's award-winning content management system, takes enterprise web strategy to the next level. With award-winning support and built-in tools to eliminate stale content, increase digital outreach, and ensure the best possible audience engagement, it's no wonder Cascade CMS powers more than 24,000 websites and is used by over 90,000 users across the globe.

OmniUpdate is the leading provider of content management solutions designed to streamline content administration and solve the digital marketing and communication challenges of higher education. OU Campus, the leading web content management system (CMS) and digital marketing solution for higher education institutions, is used by more than 60,000 web professionals to manage thousands of the world's finest college and university websites. Find out what makes OU Campus the platform of choice.

Siteimprove is passionate about making our customers successful by helping them create a better web experience for their visitors. Build a better web experience for your visitors with our all-in-one web governance suite; easily maintain quality and optimized content by identifying website errors with our Content Suite. Siteimprove allows web teams of all sizes to work smarter, not harder. We've helped more than 3,000 organizations ensure a high standard of website quality and provide a great user experience. You could be next.

VEGO is a 360° video production company dedicated to providing fast, affordable, and accessible panoramic 360° video content for schools and organizations. VEGO's 360° videos use recently developed technology to create a more immersive experience for prospective students, allowing the audience to experience the feeling of actually being present at the university campus. It's not just about being flashy. We allow your campus tours to reach anyone, anywhere, at any time.
---
Graduate Sponsors

Picture this: A customer or prospective student visits your homepage. Using GeoFli, you can display different content based on visitor location. Someone visiting your page from NY sees something different than someone visiting from CA. GeoFli's Nick and Kyle met while working at the University of Montana. Together they created an online marketing machine generating thousands of online leads and a sophisticated system for measuring return on marketing investment… in eight months. With each admission's funnel step they'd ask, how can we improve the digital experience? And so it was built. GeoFli continues to evolve to meet the growing demand for digital in a competitive enrollment landscape.

Founded in 2003, Namescape Corporation is the leader in identity, password and directory management solutions for Microsoft Active Directory-based environments. We understand that secure and affordable identity information and password management is absolutely essential to any organization. Our suite of products bring secure automation, access control, provisioning and self-service capabilities to Active Directory, together with powerful administrative tools that streamline maintenance and reporting in any organization.
---
In Kind Sponsors

Higher Ed Experts can help you get the training and professional development you need to acquire critical skills for your day-to-day job, but also the expertise that will lead to your next career move. Our online professional certificate programs and conferences have helped thousands of higher ed professionals and executives working in more than 600 institutions in the U.S., Canada, Europe, Australia, New Zealand and South America. Launched in September 2011, our online courses are valued and recognized by more than 300 institutions. These intensive professional programs have already fast-tracked more than 500 higher ed careers.
mStoner knows that the most innovative websites, viewbooks, and social media plans not only tell your unique story, but also connect with your audience. We start with a deep understanding of the people you're trying to reach, and build a story around your institution's brand, the messages you're trying to convey to your constituents, and the reasons why your donors, alumni, and prospective students choose to engage with you. Then we bring it to life through great design and execution. Let us help you answer your questions about research, branding, website redesigns, digital marketing, or any other communication challenges facing your institution.
---
Please join us again in thanking and supporting HighEdWeb West's 2016 sponsors. Stop by and say hello, and learn more from the sponsor reps in attendance on June 9 and 10.