April 9, 2014 – Pittsburgh Technical Institute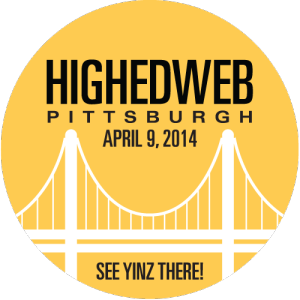 HighEdWeb Pittsburgh is a regional conference, bringing together web professionals working at institutions of higher education. Web communications professionals of all stripes — designers, developers, social media specialists, marketers and more — gather to learn, share, network and grow.
HighEdWeb Pittsburgh invites anyone from Pennsylvania, Ohio, West Virginia, New York, Maryland, Washington D.C., New Jersey and the surrounding areas to join us on April 9, 2014 at the Pittsburgh Technical Institute.
Announcements
Construction and Parking
We've posted information to our venue page about construction that will affect your travel to HighEdWeb Pittsburgh. We also listed where you can park for the event. It is free and should be plentiful.
One Week Left for Registrations!
You only have a short amount of time left to register for HighEdWeb Pittsburgh. Each ticket is $60 and and includes breakfast, lunch, coffee and snacks. There are only 110 seats available for the conference and they're filling up so be sure to register now. We'd love to see yinz in Pittsburgh!
Social Event Will Bring Caribbean Flavor to HighEdWeb Pittsburgh
The winter weather has been wearing on all of us so we're taking our social event to the Caribbean. Please join us following the conference at Bahama Breeze for Caribbean-inspired food and drink. The event will be at 5pm. We'll provide catered food and a cash bar. You'll be surrounded by the sights and sounds of the islands where you can forget all of the grey and snow. Bahama Breeze is located just a few minutes from PTI on your way back home so there's no reason not to stop by on your way out and relax for a little bit with new friends. Directions.
Higher Ed Experts Scholarship Give-away
Higher Ed Experts has always been a strong supporter of conferences held by the Higher Education Web Professionals Association (HighEdWeb). In 2014, the company has committed again to Silver-level Keynote Sponsorship for all of the association's regional conferences.
Higher Ed Experts will be the Silver-level Keynote Sponsor for all four of HighEdWeb's 2014 regional conferences:
As a part of this sponsorship, each 2014 HighEdWeb regional conference will give away one Higher Ed Experts scholarship (worth $800) to one of its attendees. This scholarship will enable the winning attendee to enroll in one of Higher Ed Expert's four-week online professional development courses.
---
#hewebpitt is presented by the Higher Education Web Professionals Association and Pittsburgh Technical Institute.